The kids were fascinated by the fountain on the square. There hasn't been a day when they didn't splash around in it.
And wouldn't you know it – one of them dropped a toy in it. A little plastic crocodile that was a prize possession.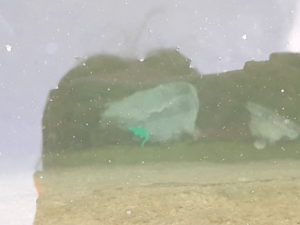 Today's mission was clear: rescue the crocodile from the fountain.
We thought about how to go at it. A little net attached to a stick seemed the most economical, but we didn't have to right materials at home… At the toy store, they had a little net with fish and other things for 100. The Vietnamese shop on Široká had a net for 80. It still seemed like a lot. Then Petra said that they had a net like that at home and that she'd go and get it.
So now we had all the right equipment: a net, a stick, and a string. Off we went to the fountain, accompanied by an army of eager children. We put together our contraption and went at it. One passer-by helped us. The rest photographed us and enjoyed the fun.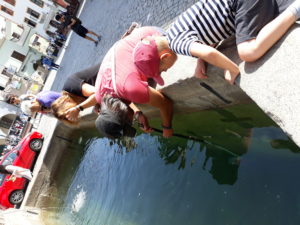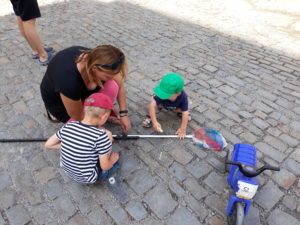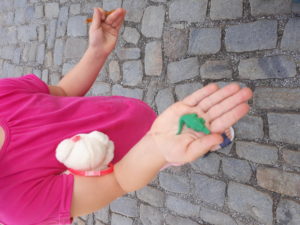 By the way, the man who helped us with the crocodile also fished a stone out of the fountain – it was some kind of game where you have to take a picture of yourself with it and put it on Facebook. So I took his picture, but he said her didn't have a phone or Facebook, so I should put it for myself. But I didn't know where to put it, so I'm putting it here. Perhaps the picture will it's way to where it belongs…