In the morning we went to invite Věra and her family over for an afternoon celebration. There were several people celebrating, so it looked like good party.
On Široká, we cooled off with refreshments and watched Věra prepare the cake. The kids helped out gladly.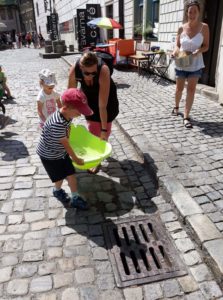 All day it looked like it might rain, so we kept watching and hoping that it wouldn't. The forecast was unclear, so we had to take our chances.
Before the party itself, we had to stock up on goods. But how, if you have to pay to drive downtown??? So the guys decides to go on foot – with backpacks bags, and even a hand truck…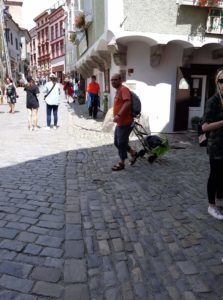 Before the big shopping trip, I was sitting downstairs drinking coffee, watching one sleeping and one waking child. One tourist was taking a picture and another was just wrapping up.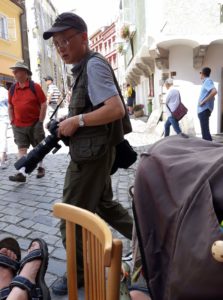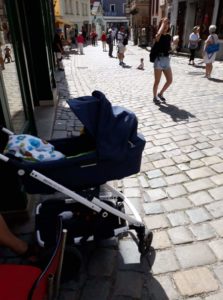 When all was ready and everybody who was supposed to be there had arrived, the big party began. We even had live music! Eating, drinking, merriment. The tourists just stared, passers-by either condemned our event or got into conversation with us. We were a thorn in the eye for more than a few people. But the event turned out great.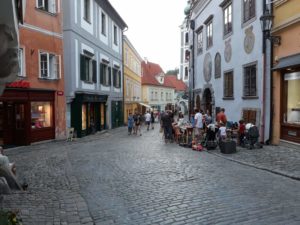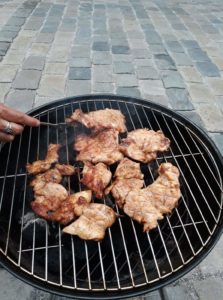 In the end the rain did come, but we quickly moved into the passage, still dry.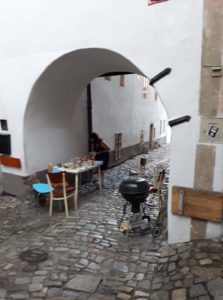 I have to say it was a great event. One that you won't forget. Simply one-of-a-kind.