Saturday. I settle into my accommodations and to check out the surroundings. Although I walk through this area a lot, I see it differently now. On my way from Latrán to the square, I pass two overflowing garbage cans. On the square, I go looking for an empty bench. There's several to choose from.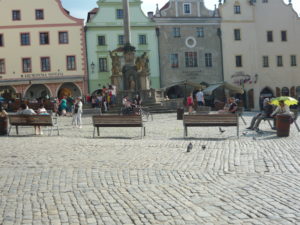 Even at 5:30pm, it's still hot and the sun is burning down on me. I try feel at home, but I can't – there's tourists (even Czech ones). I recall what it looked like here when I had a summer job here after my third year at university. I worked at a stall right on the square. On a bench, two Czech musicians are getting ready to play. They are talking about the police: "Maybe the cops won't kick us out if they're out on call somewhere." They think about where to sit. They start to sing in English. Why not Czech? The police arrives, and the cop watches the situation. Everything is alright. The second song is Czech. Yay!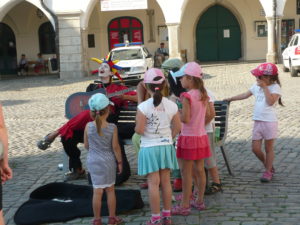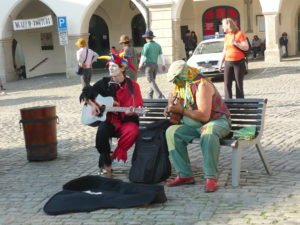 When I was walking from the bus stop down the hill from Rechle to Latrán, there were almost no people at Plešivec, but more and more the closer I got to town. On the square are Czech children with their parents, tossing coins to the musicians but too embarrassed to take a picture with them. At least they have an experience few other towns can offer. A local musician – non-Czech, but lives in town – arrives. He and the other musicians discuss how long they are going to play (the first two until 7pm and our local foreigner until 8). A Czech tour guide passes, with a group of Czech tourists. I like it when I hear Czech. There could be more benches. The lyrics from the song they are playing ("The journey can be the goal") are perfect. It's a bit too busy to read; there's so much to watch. A musician can earn decent money here in just half an hour (around 200 crowns). Finally – the truck comes to empty the garbage cans. When the sun goes behind the houses, it's pleasant and beautiful here. I set out to visit a friend who has a gallery on Šatlavská Street. She has an acquaintance from the Vyšehrad neighborhood visiting. We talk about the Vyšehrad Hotel and the strange people who lived there. He's originally from Po Vodě Srteet, which has also lost many of its original inhabitants. At the brewery's restaurant, they've increased the price of draft beer by 5 crowns to 35; bottles by 7 to 22. My friend laughs at the fact that I'm working, and calls me "neighbor." I was expecting her to come and visit me at Latrán right away, but she's got her gallery. Tomorrow, she says. Next door is the Mucha Gallery. The owner left the door to the street open, and a group of Austrians is blocking the doorway and she can't get in. I go home. By the stairs, I can smell that somebody "did their business" there. I'm curious how I'm going to sleep without my blinds down. I like the flat and can imagine living in it for real. My pen ran out of ink, so tomorrow I'll have to find a stationery store. At 12:30 in the morning, a group of 7 young ladies is giggling as they leave a bar. A hen party, apparently. People pass by at 1am. I think about things. It occurs to me that this place is missing a farmer's market. There briefly was one here a few years ago.